Not many scenarios create more dread in the minds of women then the prospect of putting on a swimsuit.   The initial excitement about a getaway with girls, spa treatments and shoe shopping, quickly gives way to anxiety and panic.   Our frantic minds move through a list of how to look toned and tanned in less time then it takes to inhale on an order of McDonald's fries after a night out with pals (I'm not the only that does that right?).  Outside of double wrapping your entire body in Spanx and hiding under a large umbrella, what can you do to feel Vegas pool confident?
 In order to get yourself in the right frame of mind for a bachelorette Vegas weekend, get thee to a tanning spa.   Not a novel idea, but one that will give you a quick boost of confidence.    The last time I was in Vegas,  I went for a "Bare Body Bronze" at the
Aria Spa
 soon after checking in.    I added the exfoliation treatment which helped the color go on evenly and left my skin feeling super soft.  I stayed blissfully bronzed for 5 days.
Swimsuit
Now to the swimsuit.  Bikinis in all colors and cuts are the most popular swimsuit choice for the Vegas pool scene.   However,  sexy one piece suits are an on-trend silhouette, so if you can't fathom the idea of even trying on a bikini much less buying one, there are tons of one pieces that offer a little more coverage but can be just as sexy as a 2 piece.
Cover ups
Regardless of what swimsuit you choose, you'll need some type of cover-up.   Unless you're snacking by the pool, most restaurants and stores require you wear something beyond a bikini.  I love wearing flowy, cover-ups.  There's something about the way the fabric blows around your body when you walk that makes me feel feminine and glamorous.  There are tons of caftans and cover-ups to choose from that do double duty.  Dresses like these take you from the pool through a day of shopping or gambling.
And if you're looking for a total it trend item, invest in a gorgeous kimono.  They're this spring and summer's outwear must have and look super cool over a swimsuit.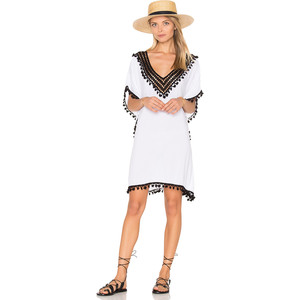 Anna Kosturova Marrakech Cover up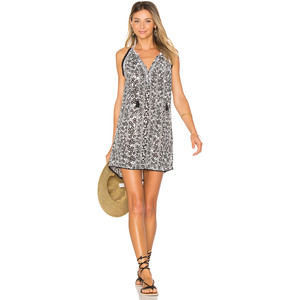 Poupette Lola St Barth Dress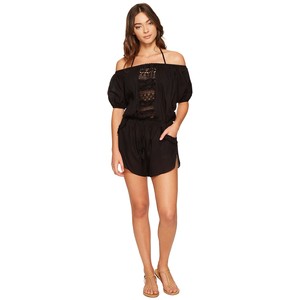 vitamin A Marmont Romper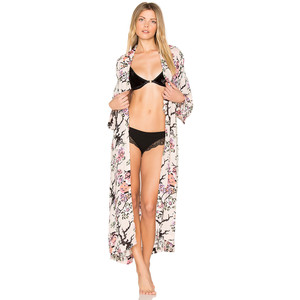 Free People Gigi Robe
Sandals
Everyone loves their flip flops and while they're not exactly taboo, leave the chewed up rubber ones at home. When it comes to Vegas poolside footwear, think glam and a little glitz versus grubby.  And if you want your legs to go on forever, pack a pair of wedges.  Sin City girls wear espadrille or cork style wedges when they sashay around the pool.  Low heeled embellished slides have enough bling to elevate your Vegas look if wearing heels doesn't jive with your look.
And without being preachy, the best thing you can bring to the pool is a big dose of body love.  In a crazy world of perfect IG photos, sometimes it feels like I'm the only one without six pack abs and mile long sculpted legs.   I don't always love my body, but I'm working on changing the battering self dialogue.  In the meantime, if  I  have a chance to getaway and a swimsuit is involved, I'm reaching deep down and saying "hell yes" – I'll see you there!